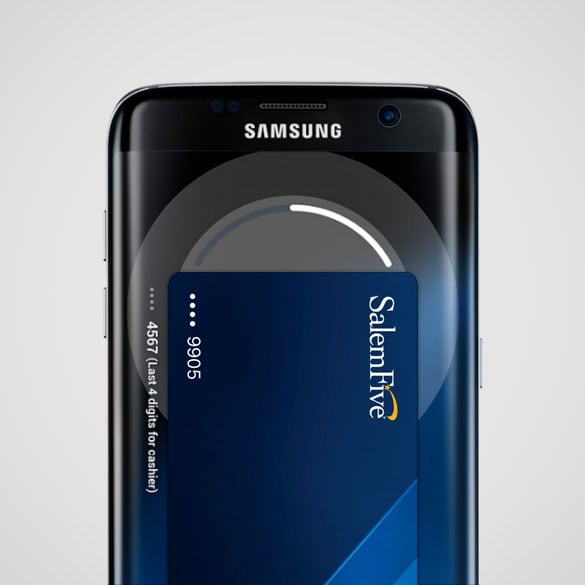 Meet your new wallet
Samsung Pay is a convenient way to make purchases using your Salem Five Visa® debit card on any eligible Samsung device.*
Samsung Pay is easy and secure! Samsung Pay works at 90 percent of payment terminals by using magnetic secure transmission (MST) and near-field communication (NFC) to transmit payment information.
When you make a purchase using Samsung Pay, a substitute device account number and a transaction specific code are used to process payments instead of your card number. Your card number is never shared with the merchant or stored by Samsung.


Getting Started
It's easy to add your consumer Salem Five debit card to Samsung Pay.
Simply open the Samsung Pay app on your eligible device to get started.
Your device's camera will scan in your card information for you to approve, so all you have to do is secure your account with your fingerprint and a backup PIN. Samsung Pay will perform a quick validation with Salem Five before the card is ready to use.
With Samsung Pay, making a purchase is easier than making a call on your device. Just swipe your screen from the bottom, just above the Home key, towards the top of the screen. The most recently added or used card is displayed. Swipe left or right to scroll through your registered payment cards. When you have the desired card selected, place your finger on the Home key to verify your fingerprint or touch ENTER PIN to enter your Samsung Pay PIN. Samsung Pay will indicate that you are ready to make a payment.
To pay, hover your device over the terminal where you'd usually swipe or tap your card. A confirmation message on the payment terminal will let you know your purchase was successful.



How to use Samsung Pay in participating stores:
At checkout, simply look for the contactless payments symbol or the magnetic stripe reader where you normally swipe your card.



If you see this symbol at checkout, just hold your Samsung Pay device in front of the secure reader to send your payment. If the merchant uses a traditional magnetic card stripe reader, just place the back of your Samsung Pay device against the area where you would typically swipe your card. A message on the payment terminal will let you know your payment was successful