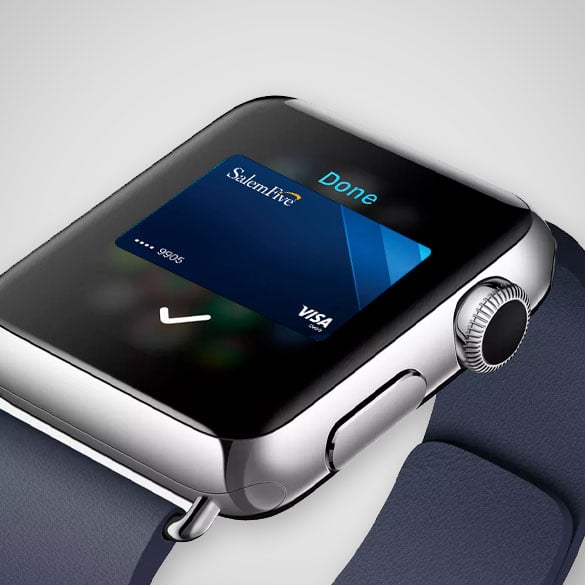 Fast, easy and secure!
Apple Pay® lets you use your iPhone 6®, iPhone 6 Plus or Apple WatchTM to conveniently and securely make purchases in hundreds of thousands of stores nationwide. No more reaching for that wallet and searching for your debit card. With the touch of the screen, your transaction is complete.
Apple Pay is more secure than using a traditional card. Once you've added your Salem Five debit card to your Wallet® (previously Passbook®), your Salem Five card number is not stored on your phone or given to the merchant. A unique digital code (token) is created specifically for that device and your payment information is stored in Wallet®. You still enjoy all the benefits of your Salem Five debit card, including Visa's Zero Liability protection from unauthorized purchases.


Getting Started
It's easy to add your Salem Five debit card to Apple Pay.
Simply open the Wallet app (previously Passbook® app) on your iPhone 6, iPhone 6 Plus, iPad Air 2, iPad Mini 3 or Apple Watch running iOS 8.1 or later to get started.
If you already have a Salem Five debit card on file with Apple iTunes®, you can quickly import it into Apple Pay by entering the three digit security code (CVV) on the back of your card.
To add a Salem Five debit card that is not in iTunes, enter your card information manually or hold your iPhone 6 over the card and use your device's iSight® camera to capture it automatically. Apple Pay will perform a simple validation with Salem Five before the card is ready to use.
How to use Apple Pay in participating stores:
Look for the Pay Wave® or Apple Pay symbol at checkout and hold your phone near the contactless reader.






Place your finger on the Touch ID™. Or, you may need to enter a passcode and sign a receipt.



Keep your phone by the reader until it vibrates and beeps, indicating your payment was accepted.




Important note: When using your Salem Five Visa® debit card to make a payment, you must select the "credit" option to complete the transaction.
Apple®, iPhone®, iSight®, Wallet®, iCloud and iTunes® are trademarks of Apple, Inc., registered in the U.S. and other countries. Apple Pay™, Apple Watch™, iPad Air 2 and iPad Mini 3 are trademarks of Apple, Inc.