Our History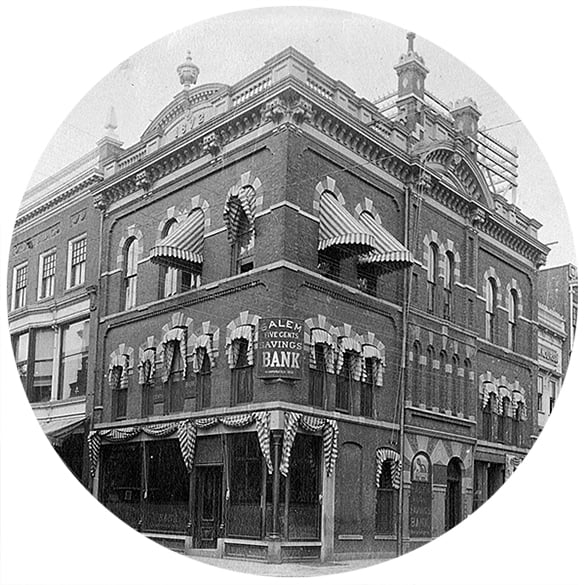 Founded in 1855 and headquartered in Salem, Massachusetts, Salem Five Cents Savings Bank was known as the "Nickel Bank" because the first day's deposits ranged from five cents and upward. Throughout the Civil War, two World Wars, the Great Depression and other moments of challenge and prosperity, Salem Five has stood strong and steadfast, offering financial services to the citizens of greater Salem and beyond. Today, we are strong, well capitalized and one of the most innovative community banks in the country.

Community Leader
Salem Five has built a reputation as the leading bank on Boston's North Shore throughout the 20th century, playing a major role in the rebuilding of Salem after the Great Fire of 1914, which ravaged much of the city. In the 1950's, when the city's largest employers left in search of cheap labor, Salem Five funded the restoration of the great mills, which today have been converted into offices and light manufacturing. Salem Five was a major force behind the revitalization of downtown Salem in the 1970's and 80's and, as a driving force in Salem's waterfront development efforts, funded the transformation of Pickering Wharf into a flourishing commercial, residential and recreational shopping area. Salem Five also played a key role in the movement to revitalize the National Park Service's Salem Maritime National Historic Site, one of the city's most valuable assets.

The 1990's also saw Salem Five Bank grow and expand beyond the retail branch network. the North Shore, into Boston and Middlesex County. Commercial banking and Salem Five Mortgage Company became regional in scope, serving consumers and businesses throughout New England.

Today, with assets in excess of $5 billion, we're a leading financial services institution that offers a broad array of products and services for consumers and businesses. Through our subsidiaries - Salem Five Mortgage Company, LLC, Salem Five Investment Services, our full-service brokerage company and Salem Five Insurance Agency, LLC, we meet the diverse financial needs of consumers, small businesses and middle market companies throughout our region.