Salem Five's diverse culture is rooted in history and steeped in fun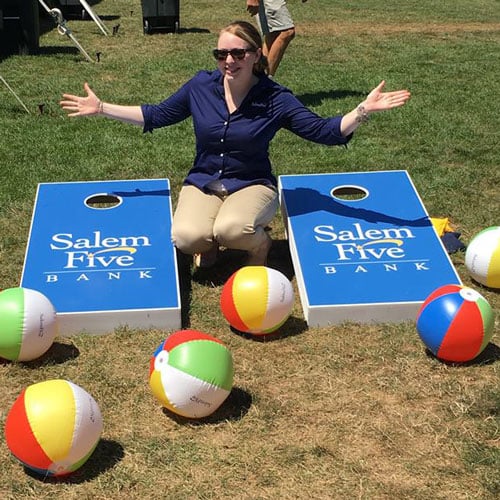 Salem Five Bank is firmly rooted in the greater Boston community, with a rich foundation of positive traditions linking us to the past, and a team of employees representing the present and the future. Our team's history, diversity, knowledge, and insights create a truly collaborative environment. Employees work hard and play hard!

We value our employees and the work they do each day. Our company-wide annual events like the holiday party, summer outing, and Service Award Banquet are a few of the many opportunities that contribute to a positive employee experience. Between those events, our Ministry of Fun is always creating exciting ways to get the team together or bring a smile to the day, like:
Mother's Day brunch
Father's Day pizza and root beer
Red Sox opening day
Employee Appreciation Day
Ice cream truck
Cupcake truck
Our people care a lot about giving back to the community. Some of the efforts we've been involved in recently include KICKstart, a shoe donation campaign in partnership with the Boys and Girls Club of Salem, Holiday Toy Drive in partnership with the Salvation Army, employee fund raisers for various causes such as heart health, breast cancer, hurricane relief and other disaster relief efforts and special causes. In the past year, many Salem Five staff members have donated time to charitable organizations and 75 sit on boards of various non-profit organizations.

Part of the tightly-knit community atmosphere at Salem Five comes from our friendly team of employees seeking to provide outstanding levels of service to internal and external customers The diversity of our company allows staff to learn from each other and to share their stories. It's easy to see how our employees enjoy careers at Salem Five: 302 people—that's almost 50 percent of our staff—have been with us for over five years.