SALEM FIVE

MUTUAL INTEREST
Information to keep you moving forward.
Awards

We couldn't be prouder to be named a Best-in-State Bank this year by Forbes Magazine and Statista – a leading statistics portal and industry ranking provider.
Best-in-State Banks were chosen based on an independent survey of approximately 26,000 U.S. consumers who were asked to rate banks at which they have or previously have had checking accounts. Survey participants made recommendations regarding overall satisfaction and evaluated banks in the following areas: Trust, Terms & Conditions, Branch Services, Digital Services, Customer Service, and Financial Advice. We're thrilled that we ranked highest in Digital Services – reinforcing our long-standing commitment to investing in technology to make banking easier for our customers.

As we've always made customer satisfaction a priority, we're pleased that our efforts are paying off. However, we won't rest on our laurels – we will continue to do even better for our customers.
---
In The Community
Celebrating the Area's Movers & Shakers
Salem Five once again partnered with Northshore Magazine to present the Movers & Shakers Awards – now in its second year. These awards are given to honorees who have really made an impact in the region – through their business, non-profit or community involvement. As our brand theme line is "Make Your Move, we thought it appropriate to celebrate those who are making THEIR move and making things happen throughout the North Shore. The evening's events were held in Newburyport at Sea Level / Firehouse Center for the Arts and emceed by our own Joe Riley, EVP of Retail and Community Business Banking. This year's honorees included such north shore mainstays as Bill Hanney from the North Shore Music Theatre, Alan Gibeley of Giblees, the Arcari Family of Landry & Arcari and so many deserving honorees. For full list click here.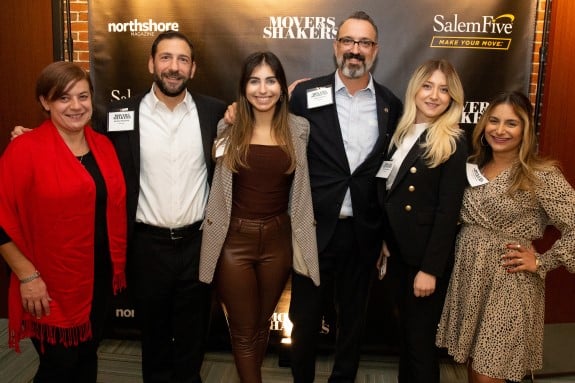 Current Promotions
It's not just Halloween -- It's Hockey Season!!!
It's beginning to look a lot like Halloween here in Salem. But, truth be told, we're actually more excited that it's hockey season! And due to our partnership with New England Sports Network (NESN), all Bruins away games are broadcast from the beautiful Salem Five NESN Studio in Watertown. Be sure to tune in throughout the season. To kick off the season in style, we are adding a bit of fun here in Halloween-town. Look for the oversized container filled with hockey pucks right outside of our headquarters at 210 Essex Street. Guess the number of pucks correctly and be entered to win tickets to a Boston hockey home game courtesy of Salem Five and NESN! We'll throw in some Salem Five and NESN swag to the deal. Go Bs!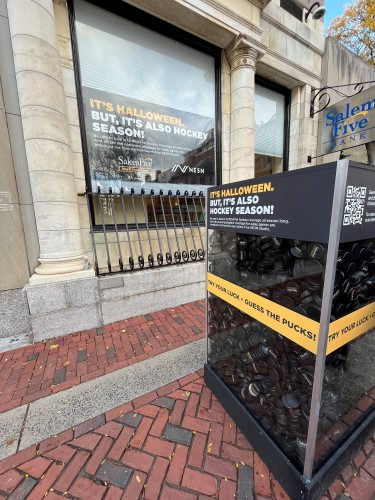 Business Insight
Keeping Moving in a Stagnant Economy
Shawn Ford, a season community business banker here at Salem Five, sees an economy that is a bit stuck. With the rising rates, inflation and the high cost of living, many people don't have the means to inject funds into the economy with things such as vacations, new homes, new cars, etc. There is a dichotomy that exists today in the United States. Many people continue to live paycheck to paycheck while the other part of the population has more money in accounts (personal not business) than ever before in history. $1.2 trillion+. This is what makes this slowdown different than others in the past. However, you and your business don't have to be stuck. As other banks are pulling back and halting on lending, we are still 'business as usual' and have not changed course with the increase in rates and cost of living. We know customers' needs are different now than they were 18 months ago and we want to do everything possible to be there to help them now (and 18 months from now). We are a Community Bank, and need to be there in all economies for our customers

Shawn Ford
SVP, Community Business Banker