SALEM FIVE

MUTUAL INTEREST
Information to keep you moving forward.
In The Community
The Season of Giving
Salem Five Bank believes strongly in giving back to the communities we serve. This past December, we were proud to have contributed in various ways to organizations that support the wellbeing of our area residents. Firstly, we partnered with The Salvation Army and collected over 1,100 toys for children in need throughout the region. Our branches and headquarter offices all participated to make the toy drive a success. We kicked off the effort with Jason Varitek, former catcher of the Boston Red Sox, and had Karen Blake, Magic106.7 afternoon on-air personality, get in on the action. Thanks to our customers and employees who made this a success and helped put smiles on children's faces this season.
In addition, we turned "Giving Tuesday" into a month-long event – dubbing it #makeadifferencedecember. Throughout December, we surprised area charitable organizations with a visit and a donation from the Salem Five Charitable Foundation. In total, the Foundation awarded $27,500 to eleven different organizations each with a $2,500 year-end surprise. Focusing on nonprofits that provide much needed basic services such as food and other social services – and had not yet received any donation from Salem Five in 2021. Organizations such as the Acord Food Pantry in Hamilton and the Lynn Shelter Association in Lynn are so important – especially as we continue to see lingering effects of food insecurity, homelessness and the need for basic services increase from the pandemic. We were proud to be able to do our part to help these organizations.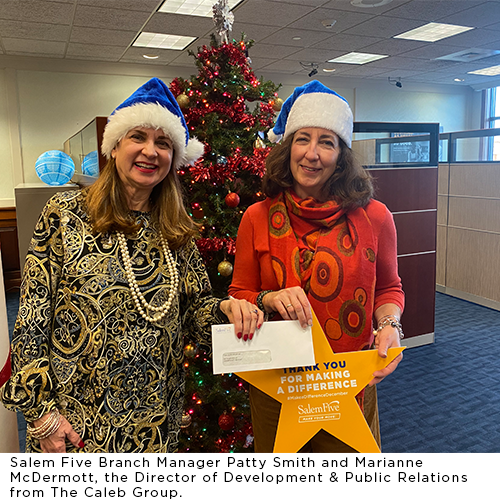 Current Promotions
A Home Equity Rate That is Sure to Move You
For a limited time, get a special rate on a Star Home Equity Line of Credit. Borrow against the equity in your home for important projects or expenses. A home equity line of credit (HELOC) is a convenient way to benefit from the time and money you've invested in your home. Accessing funds is as easy as writing a check. Borrow what you need, when you need it.
For a limited time, we're offering an introductory 2.50% fixed rate for the first 6 months and then prime -1/2% with a floor of 2.75% after the 6 month introductory period*
Valid for 6 months from closing.
Prime Rate minus 1/2% for life of line. Rate may vary.
Star Home Equity Line of Credit
Borrowing against the equity you've built in your home enables you to do a number of initiatives that otherwise might not be possible. Efforts such as:
Bill Consolidation
Home Maintenance or Renovation
Education Expenses

Get Started
*The Annual Percentage Rate (APR) for this Star Home Equity Line is 7.24% fixed for the first 6 months then Prime -½% variable based on the highest domestic Prime Rate published in The Wall Street Journal. The Prime Rate as of 11/27/2023 is 8.50%. Call (800) 472-5365 for current rates. Combined Loan to Value's ("CLTV") not to exceed 60% of the tax assessed value or 50% for lines secured by condominiums or townhouses. CLTV's up to 70% (60% for condominiums or townhouses) determined using a Salem Five certified property appraisal or an online statistical appraisal acceptable to the lender are permitted. A Salem Five certified property appraisal will be obtained at the applicant's expense if: 1) the value determined using an online statistical appraisal is unacceptable to the Lender or the applicant; 2) the requested line amount exceeds $400,000; or 3) for line requests secured by properties acquired via foreclosure, short sale, or the gift of equity. 1- to 4- family owner-occupied residences only. A $500 early termination fee applies for lines paid off within the first three years. There is a $50 annual fee. For line amounts greater than $400,000, a full Appraisal will be required, and Title Insurance may be required. Additional fees will apply if the property is held in the name of a Trust. This offer is subject to change at any time without notice. Consult a tax advisor regarding the tax deductibility of interest. The maximum possible APR is 18%. The minimum possible APR is 2.75% after the 6-month introductory period. Property insurance is required, and flood insurance, if necessary. Other restrictions may apply. NMLS ID 407901
Member FDIC.



Business Planning
Balancing Tax Planning with Future Business Growth
Business owners work with their accountants each year on tax planning and reconciliation with the end goal of reducing tax liability. Who wants to pay more taxes, right? However, in reality, it should be a balancing act for a growing business that may have lending needs now or in the future. Accountants' purview tends to be a bit single-minded and may not adequately position companies for future financing needs. Reducing the amount of reported income year after year may not give the proper financial picture of your company – and, in turn, reduce your access (or the lending level) to much-needed capital. Capital that a financially stable, growing company may deserve and need to continue to thrive and compete.

Consider working with your accountant to achieve a balance. Reduce tax liability -- of course, but have an eye toward adequately representing reported income – which will greater position you to access bank funds such as working capital lines of credit, real estate mortgages and term loans for growing needs such as equipment or expansions. Reach out to one of our business bankers to learn more so you're better poised for success.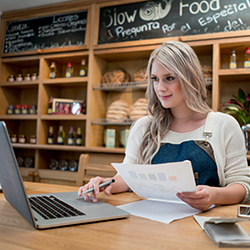 Top Five Insurance Resolutions from Salem Five
The new year is a great time to make a resolution for a fresh start, whether to improve our health, start a new hobby or even plan a new project. Why not use this "fresh start" approach to make a few insurance resolutions? Did you know that in 2020, Forbes.com placed insurance as its #3 top financial resolution to make, followed only by tracking spending and making a spending plan?
Review your Homeowners Insurance if you've made improvements to your home during the pandemic. Make sure you have enough coverage to accommodate the increased value.

Are you working from home? Contact your agent to make sure you're covered in the event of a loss. This may mean you are driving less, too. Make sure your policy reflects this, as you may be entitled to a low mileage discount.

Do you have low or minimum liability limits on your auto policy in an attempt to keep premiums low? Have you considered raising your deductible instead to save money? Consider your options.

For business owners, have your operations changed since your last renewal? One reason to perform an annual review of your business insurance program is to help catch any gaps that were created by any recent change.

Many business locations remain closed due to the pandemic. As a business owner, you should be aware that vacant buildings may require special insurance coverage.
The best place to start a review of your personal and business insurance is with your Insurance Agent. Please contact us at (781) 933-3100 to discuss your 2022 insurance resolutions. For general information, click below.
Learn More

Insurance products offered through Salem Five Insurance Services, LLC. Insurance products are not FDIC insured, not bank guaranteed, not a deposit and not insured by any federal government agency.