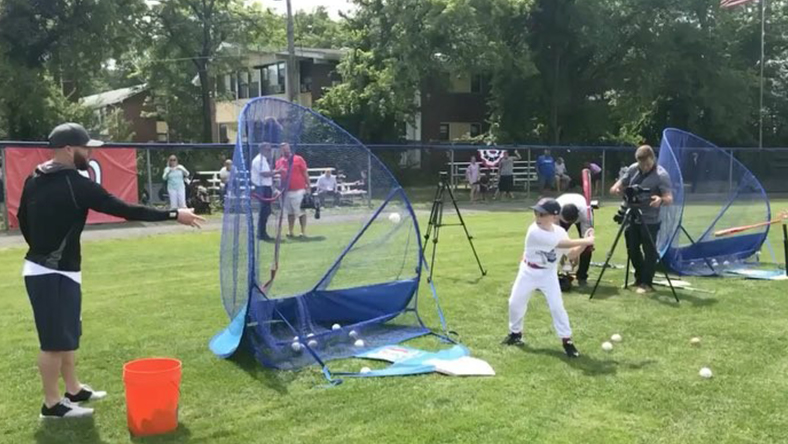 Dustin Pedroia and Salem Five "Uncomplicate Hitting" for One Lucky Local Team
May 2017
Salem, Mass., May 5, 2017 – Salem Five will award one Massachusetts youth baseball or softball team the chance to step up to the plate at a hitting clinic with MVP and Silver Slugger, Dustin Pedroia in the "Uncomplicate Hitting" contest.
The contest entry period is open now through May 31st, and entrants are asked to submit a video up to 60 seconds long explaining why their team should win the hitting clinic with Dustin. Here are the "Uncomplicate Hitting" contest details.
Videos are submitted by uploading to the entrant's personal YouTube channel, and will be made available to view on the Salem Five channel
Judging will run from June 1st to 6th, and five finalists will be selected by a panel of judges including the Sports Hub 98.5 host Rich Shertenlieb.
Voting will be open to the public from June 7th to the 18th, and will take place on the Pedroia's World site (www.pedroiasworld.com); finalist videos with the most votes during the voting period will win the hitting clinic for their team with Dustin.
The Grand Prize Winner will be announced on June 25, 2017.
The contest is the latest evolution of the bank's new brand campaign, "Let's Uncomplicate Money." Launched in September 2016, the campaign embodies Salem Five's realistic approach to finances. The bank aims to help customers spend more time enjoying life and less time worrying about finances. Earlier this year, the bank launched the "Uncomplicate Me" series of events and contests, offering consumers expert help with cooking, personal style and organization in order "A key element of our 'uncomplicate' campaign is bringing together experts to help people enjoy everyday things and once in a lifetime opportunities by getting them the best coaching – whether it's saving for retirement, reorganizing their closet or, in this case, learning how to hit like a pro," said Martha Acworth, chief marketing officer, Salem Five. "We've been proud to have a relationship with Dustin since 2008. He's an outstanding role model for kids and is passionate about financial education. We look forward to seeing him coach the lucky winning team."
During Salem Five's nine-year partnership with Pedroia, he has participated in community events and acted as spokesperson for the bank's award-winning Gold Star Saver program, which helps to make financial literacy and responsibility accessible and fun for children. For more information on the contest, visit www.pedroiasworld.com to help simplify their hectic lives.