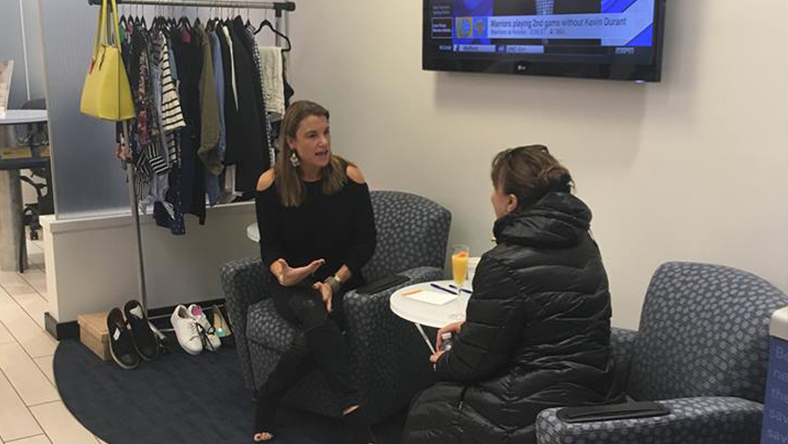 Melrose Resident Named Winner of "Uncomplicate My Style" Contest
April 2017
Salem, Mass., April 27, 2017 – After six months of chemotherapy, Melrose resident Michele Gabree is working to get her confidence back with some style help from Salem Five. Michele is the Grand Prize winner of the bank's "Uncomplicate My Style" contest and will receive a one-on-one closet consultation with personal stylist Lindsey Foley and a $2000 custom wardrobe makeover. Four runners-up will each receive $250 Stitch Fix gift certificates.
The "Uncomplicate My Style" contest is part of Salem Five's "Uncomplicate Me" series of events and contests, offering busy consumers expert help with cooking, personal style and organization to help make their lives run more smoothly. The "Uncomplicate Me" promotion was designed to support Salem Five's new brand platform of appreciation for customers' busy lives and demands of increasingly complex finances. With the tagline "Let's Uncomplicate Money," Salem Five seeks to simplify money management by using the latest technology and its team of financial experts to create customized financial solutions, allowing customers the opportunity to focus on the other important things going on in their lives.
Contest entrants submitted photos or videos showing why they needed help "uncomplicating" their personal style. Michele submitted an image of herself asking for help to get her life as a busy working mom back on track.
"I can't think of anyone more deserving of a wardrobe makeover than Michele," said Salem Five Chief Marketing Officer Martha Acworth. "Feeling confident in the way you look can make all the difference when overcoming a challenge. It's a pleasure to be able to be able to support Michele."
Salem Five has teamed with lifestyle experts Foley, Anna Rossi, MasterChef, and Sarah Buckwalter, Certified Professional Organizer, for the promotion. Each expert has hosted interactive demonstrations and workshops at Salem Five locations across Greater Boston and the North Shore.