Be Like Brit and Customers Honor Mark in Haiti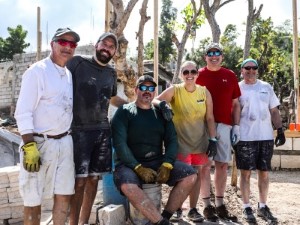 ---
For his efforts on behalf of promoting the orphanage and helping to build homes in the greater community of Grand Goave, Haiti, the Be Like Brit organization and Mark's colleagues dedicated the first guest room in Brit's House of Love to Mark, Salem Five, and the Home Builders and Remodelers Association of Massachusetts.
The dedication took place at the conclusion of another week in Haiti for the purpose of building another home for families in Grand Goave. Mark organized a team of Salem Five customers and Massachusetts Homebuilders to donate the materials and work with Haitian builders to build a new home for a family of nine. The team also built beds and provided furnishings for the family.
Len Gengel and Harry Blackey (third volunteer visit to the orphanage) dedicated the room on a live Facebook feed from the orphanage on February 2, 2019. (put in link to video)
"So many customers and friends have been touched by the orphanage, the people of Haiti, and our ability to help the less fortunate through this home building program," Mark said. "I am tremendously proud of this dedication, but take even more satisfaction in seeing the incredible impact of Be Like Brit throughout the entire community of Grand Goave. For any home builder, it is incredible to see the impact that these new homes have on the well being of the people."
David Smith of Graystone Builders, Inc. in New Hampshire generously donated the material for a double sized home (24' X 12'). See the video tribute to David put together by Len Gengel and Mark (insert link).
This year's team visited Haiti from January 29th through February 2nd, and included long time customer and friend, Harry Blackey, as well as his son, Dean Blackey; Stoneham civil engineer Paul Marchionda; North Andover realtor Kyle Vogt, BLB Britsionary Director Shelby Hutchinson, and Mark's brother, Hirsh Leff. We also had professional photographer and videographer Tucker Wood who documented the entire week with spectacular visuals. Tucker made this trip truly special for everyone.
This was Mark's sixth trip to Haiti since the 2010 earthquake that claimed Len and Cherylann Gengel's daughter Britney. Be Like Brit is the home to 66 orphaned boys and girls, all of whom are multi-lingual and will serve as future leaders in Grand Goave and Haiti.


Click here to see more pictures from the trip!