Mark Receives Home Builders "Legend Of The Industry" Award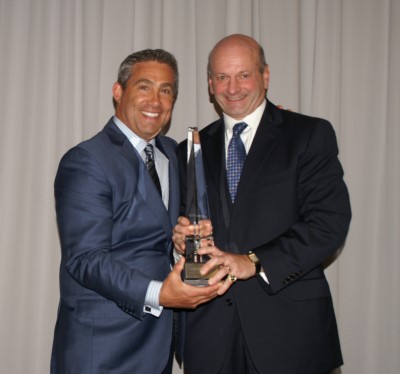 ---
The Home Builders and Remodelers Association of Massachusetts (HBRAMA) bestowed upon Mark Leff its "Legend of the Industry Award" at its annual Installation and Awards Banquet in Lowell in June of 2017 in Lowell.
In presenting the award on behalf of HBRAMA, Andrew Chaban, President and CEO of Princeton Properties, noted Mark's many contributions to the Home Building industry. Mark served as chair of the association's Public Policy Committee for six years, and also served as President of HBRAMA in 2007.
Over the past four years Mark has served as Chair of the HBRAMA "Utility Subcommittee," which is responsible for interacting with the state's utility companies and the Department of Public Utilities seeking ways to improve gas and electric service to home builders. He also assists Government Affairs Committee Chairman John Smolak and association counsel Benjamin Fierro on various government and public policy matters
"Receiving this award is amongst my proudest accomplishments," Mark said. "I am humbled that my industry has selected me for its greatest honor."

The "Legend of the Industry" is reserved for those individuals with 25 years of experience in the home building industry in Massachusetts, who have also records of extraordinary accomplishments and service to the association and community.