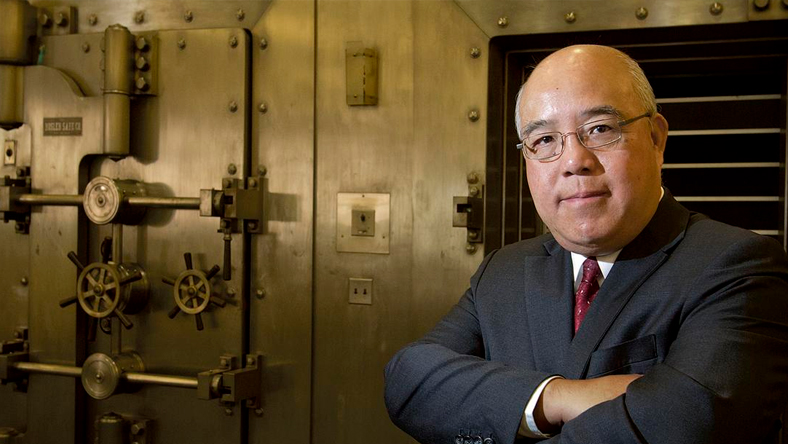 A New Salem Five CEO: Building on Momentum
May 2016
We recently experienced a transition at the top: Joseph M. Gibbons, who had been president and CEO for the past 12 years, officially retired from Salem Five on December 31, 2014. Taking his place, as of January 1, 2015, is Ping Yin Chai, who most recently served as executive vice president and CFO of Salem Five.
Every company handles a major shift like this one differently, and we've advised several clients through executive-level changes. Some choose to hire from the outside, and others decide to promote from within. That said, we're not bucking any current trends in putting a practiced, internal hand on the tiller. According to the Strategy& 2013 Chief Executive Study's "CEO Turnover in 2013" section, the number of "insider CEOs" rose in 2013. More than 75 percent of the incoming class were promoted from within, compared with 71 percent in 2012. In addition, 26 percent of incoming CEOs had worked at only one company during their career. The survey notes that "the high proportion of planned turnovers is a strong signal that companies are continuing to take an active, considered approach to putting new leadership in place."
Add to that The 2014 Workplace Strategies Survey, conducted by Greenberg Quinlan Rosner Research for the College for America, which reveals that employers prefer developing employees to hiring new ones by a two-to-one margin. In terms of senior management and executive roles, 67 percent of respondents reported that developing the skills of current employees (vs. hiring new) best reflected their company's talent strategies.
In the case of Salem Five, ours was a planned transition—one that was decades in the making. We as employees were told about this transition in early 2013, and it has taken place seamlessly.
After a stewardship that saw historic progress, it makes sense that the bank tapped someone who had the capability to keep that momentum moving forward. Joe Gibbons, who came to Salem Five about 35 years ago, has been our president and CEO since 2002. Under his leadership, Salem Five's assets have grown from $1.3 billion to $3.6 billion, the numbers of employees has increased by 65 percent to 550, and a retail network of 30 locations has enjoyed significant growth throughout Essex and Middlesex counties (up from just a dozen in 2002).
That growth has taken place in a distinct culture of "listening." That may be part of our "We're listening" tagline, but it's true. We couldn't have achieved our growth without creating real working relationships with our customers for the long term. Which brings us to the person taking Joe's place—a leader who's worked closely with him for better than three decades. In his 33 years here, Ping Yin has held a variety of pivotal roles, including managing the Salem Five Insurance and Salem Five Investment Services divisions. He has grown Salem Five Mortgage into an industry leader, financing more homes statewide than any other Massachusetts-based bank.
While Ping Yin has carved his own niche within Salem Five's leadership, he's uniquely positioned to maintain the progress that Joe led. In his own words, he has "strong personal relationships with my colleagues, customers, and communities—relationships I greatly value. I am grateful to Joe for his leadership, friendship, and mentorship in preparation for this transition. With the support of our executive team—long-time colleagues and new, talented leaders—I will continue our commitment to our values as a locally owned, mutual bank that listens to its customers."
Regarding the changes, I asked a newer colleague, how he felt about the shift at the top. His answer was: "At my initial presentations to the loan committee, it was immediately obvious that our leaders are sincerely interested in finding the best solutions to meet the needs of our customers. The leadership of the bank is clearly committed to helping businesses in the community grow and prosper." In other words, business as usual.
I believe everyone at Salem Five agrees that the transition has caused no disruption in growth and that our clients can hold us to the same standard of partnership they've come to expect. So that leaves you, our customers. How has change worked for you? Is there anything we can do to help you through change? Keep telling us in the comments below. We're listening.