Be a part of the Salem Five team
Salem Five is hosting a Career Fair in search of high energy, motivated, experienced retail, education, and banking professionals.
We know the pandemic has taken a toll on those in the retail and education sectors. If you've left your job in retail or education or are thinking of making a change, come and see how your skills might apply to positions in our Retail Banking network or Learning & Development division. Your customer service skills may translate well to helping people make every day financial decisions. Or you can enjoy working with a dynamic group of adults who crave training and professional development. You'll feel rewarded and benefit from a stable organization that's been around since 1855. We offer competitive salaries, offer tuition reimbursement and are heavily involved in the communities we serve.
Hear From Employees Who have Made this Transition
Abby Myette
Learning & Development Manager
"After working with college student leaders for over 10 years, I found the transition to corporate learning and development a very rewarding one. The skills I had honed in identifying individual learning needs and facilitating programs were all applicable in the new role. While the subject matter of the content I developed was different, the process of taking an idea or subject and turning it into a class or learning tool was very similar. Making the move to Salem Five enabled me to use my skills and focus on my interests in a career with greater stability and opportunity for advancement."
Murium Hector
Senior Learning Specialist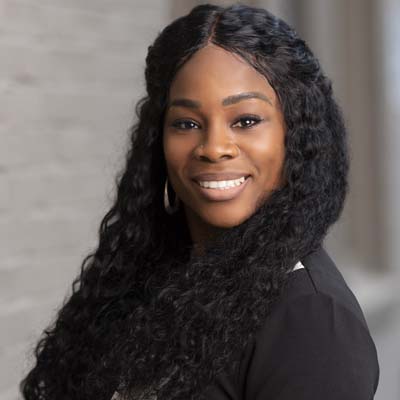 "I can clearly recall sitting outside in the car crying moments before I walked into my first day of work. And I have to be honest, those was not tears of joy, they were tears of fear. I said to myself it is impossible for me to work in banking. Not only did I not have the necessary experience, it was my first big break since I had recently moved to the United States. I thought of all the issues including my accent, culture and a completely different service industry. What was I thinking ? But I wiped those tears and walked into the bank telling myself that girl you got this! I had a wealth of sales experience, excellent customer service, an amazing attitude, and experience in small business consulting/development. Although I had no banking experience, I kept telling myself you have enough experience and skills to share and a whole new set of skills to learn. Not only that, I needed a job. I applied my experience and challenged myself to learn new things and expand my understanding of banking. I worked in Retail and was able to transition those skills to meet the demands in my role. I also developed an awareness that there is more to banking than beyond Retail. This was not just a bank it was a community with several different departments and a wide range of opportunities. I started to dream big! Who would have thought that today that this job would now be my career. I always wanted to be in HR or training and development somewhere but never in a million years did I think it would have been in banking."